Diver Profile - Ian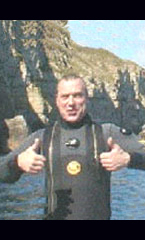 Name :
Ian
Age :
Not telling.
Occupation :
Painter & Decorator.
Diving History :
1987 - Started diving with BSAC. 1990 - Formed branch 1784 Mid Herts Sub Aqua Club. Advanced Diver/Club Instructor/Disabled Diving Instructor/Assorted BSAC qualifications Early 90's - Salvage operation, 1622 Spanish fleet, Florida Keys. BSAC expedition to South America assessing Nitrox at altitude in Lake Titicaca. Trained members of the Bolivian Navy. Dived on some Inca sites, recovering some Inca gold, now on display in museum on the Island Of The Sun. Nautical Archaeological Society training parts I and II.
Best Find :
Inca Gold.
Favourite Bit of Kit :
Underwater Detector.
Favourite Dive Location :
Halsewell site.
Best Part of Diving :
Challenge of mapping the seabed.
Worst Part of Diving :
Andys snotty face after a dive.
Other Interests :
Metal detecting and research.
Personal Quote :
"We need a bigger hole".