Diver Profile - Gary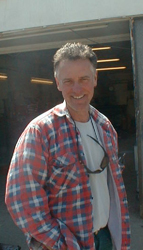 Name :
Gary
Age :
40 ish.
Occupation :
Crash Repair/Garage Owner.
Diving History :
1976 Bsac 2nd class. Advanced Lifting/Salvage operations. Advanced Explosive/Cutting/Welding Operations. NAS part I. RYA Crew member. Bsac dry suit training course.
Best Find :
The Halsewell.
Favourite Bit of Kit :
1979 Whites PI 1000. Underwater Detector.
Favourite Dive Location :
Halsewell site.
Best Part of Diving :
Finding gold.
Worst Part of Diving :
Getting wet.
Other Interests :
Land metal detecting.
Personal Quote :
"UK diving, every 30ft is a new dive site".