You are here:
Home
> About Seadart >
About Seadart Divers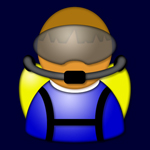 Seadart are a small group of UK based Divers who collectively came together in 1998. Since that time they have concentrated most of their underwater efforts on the wreck site of The Halsewell, located off the Dorset coast in England.
This web site has been published to highlight the story of the Halsewell, her tragic loss and how, with a unique combination of diving experience and local knowledge, the Dive Team has recovered a remarkable collection of artifacts from the Halsewell wreck site.
The web site also contains information on the Dive Team, specifically designed equipment for the Halsewell operation and general diving information for visiting divers to the area. The Image Galleries are constantly updated with pictures of the latest finds from the Halsewell, some of which can also be seen on display in various museums.
A recent development is the chance to purchase some of the artifacts and items recovered from the Halsewell with Seadart Shipwreck Treasure Sales. These have proved extremely popular with sales and orders coming in from all over the world. All proceeds from the sales go to helping Seadart finance the diving operations on the Halsewell.