You are here:
Home
> Treasure Sales >
Treasure Sales
In order to offset the cost of diving operations, boat maintenance and research, Seadart Divers are offering for sale selected artifacts from the Halsewell Collection. This is your chance to own a little piece of history and whether you are a serious collector or just an interested individual, the items certainly make a worthy addition to any collection.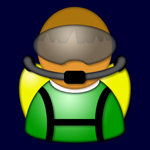 Seadart Divers have made a number of donations of recovered items to the Weymouth Maritime Museum and also the Exhibition Centre and Heritage Centre in Swanage Dorset UK. We hope these donations will continue but we need to sell a small amount of our collection to help cover some of our costs. Also we feel the general public should have the opportunity to build their own collection.
All of our artifacts and coins for sale have been declared to The Receiver of Wreck at the Maritine & Coastguard Agency. As "Salvor in Possession" we have the authority to issue a Certificate of Authenticity with all items sold. The certificate is signed by the recovering diver and on behalf of the Salvor.
It has come to our notice that some dealers and individuals are selling artifacts and coins claiming to come from the Halsewell wreck site. They are not issuing a genuine certificate of authenticity. Seadart Divers who are "Salvor in Possession" of the Halsewell site have been involved in the salvage of Halsewell artifacts for a considerable time and are aware of most of the artifacts recovered from the site.
Please feel free to contact us should you be in any doubt as to the authenticity of any Halsewell artifacts from other dealers etc.
If you would like to be notified of when new items become available for sale you can subscribe to our RSS newsfeed by adding this page to your RSS Reader or send us an email to admin@seadart.net with your contact details and be the first to know the next time a rare piece comes up.