Diver Profile - Bob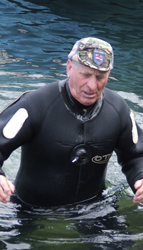 Name :
Bob
Age :
Over 60.
Occupation :
Retired .
Diving History :
Qualified RN ships diver 1964. Qualified RN SAR (Search & Rescue) diver 1967.
Best Find :
First official gold coin from Halsewell in 40 years.
Favourite Bit of Kit :
The chutney box.
Favourite Dive Location :
Anywhere that isn't to deep and you can see more than 6 inches.
Best Part of Diving :
The joy of flying in a chopper one minute and being on the seabed the next.
Worst Part of Diving :
When your so-called dry suit fills with water.
Other Interests :
Work to finance diving ops.
Personal Quote :
"Should I declare this to ROW".