Location
To pinpoint the exact location of the wreck site is a little tricky, mainly due to there being no actual physical wreck to place. This fact together with the violent nature of the wrecking, where the ship was smashed along a fairly long stretch of the cliff face, renders exact co-ordinates a little pointless.
However, as pointless as they are, here are what are generally considered to be the numbers for the Halsewell wreck site.
50° 35.17' N : 02° 01.61' W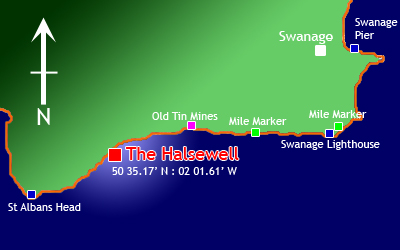 The wreck site can not be approached by foot as the sea comes right up against the cliff face so in order to visit the site a boat trip is required, and as a base to launch from Swanage Pier provides an ideal starting point. Leaving Swanage Bay just follow the coast West and enjoy the scenery for about five miles. Keep an eye out for the Swanage Lighthouse, the nautical mile markers and the old quarry mines.
Upon reaching the site it is just a case of pick a spot in the general area and you are on the Halsewell.