Treasure Sales - George III Half Guinea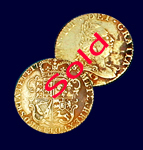 Shipwreck Treasure from the East Indiaman Halsewell - Wrecked on the Dorset Coast UK in 1786.
Guide Price £320.00 GBP ($590.00.US).
All serious offers will be considered.

Coin Details:
Gold George III Half Guinea.

Dated: 1784.

Minted: Great Britain

Weight: 12g.

Diameter: 20mm.

Obverse: Bust of George III facing right.

Reverse: Royal coat of arms.
A full Certificate Of Authenticity is issued with this coin, signed by the recovering diver and on behalf of the Salvor.
This gold coin is one of a very few to be recovered from the Halsewell site and almost certainly a rarity being sold to the general public. This coin has been graded as Fair to Very Fair and would be valued at over &£300 GBP as a plain non-shipwreck coin and without a certificate of authenticity.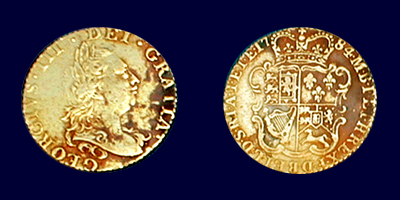 Most of the coins recovered from the Halsewell show signs of wear. This is understandable, as most of them have been tossed about in the seabed for over 200 years, but occasionally we do find a coin in reasonable condition. This Golg Half Guinea has been contaminated by other metals and has a light staining to parts of the portrait and the coat of arms. With professional cleaning it could be restored to its original colour, but we feel if this was done it would take away the character of the coin.

These coins are very rare finds and as such recovering divers generally keeps these type of finds for their own personal collections or they are donated straight to museums for display to the general public. As such the availablity of these coins to be offered for sale does not come along very often.
All of coins offered for sale have been declared to the Marine & Coastguard Agency (Receiver of Wreck) Southampton UK. As "Salvor in Possession" we have the authority to issue a Certificate of Authenticity with all items sold. The certificate is signed by the recovering diver and on behalf of the Salvor.
For details of shipping and insurance coast or any other information regarding this coin, please email enquiries to: sales@seadart.net.