Treasure Sales - 8 Reales 1775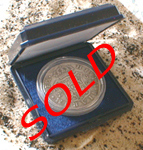 Shipwreck Treasure from the East Indiaman Halsewell - Wrecked on the Dorset Coast UK in 1786.
Guide Price £255.00 GBP ($470.00.US).
All serious offers will be considered.

Coin Details:
Silver 8 Reale.

Dated: 1775.

Mint Mark: Seville. Assayer: C.F.

Weight: 27g.

Diameter: 38mm.

Obverse: Bust of Charles III facing right.

Reverse: Crowned Spanish Shield.
A full Certificate Of Authenticity is issued with this coin, signed by the recovering diver and on behalf of the Salvor.
This 8 Reale coin is one of the better conditioned coins to be recovered from the Halsewell wreck site. Also a rarity, as this coin was minted in Seville, Spain. Therefore there are no pillars on this coin, as with most of our 8 Reale coins. The majority of our coins were minted in Mexico or other parts of South & Central America.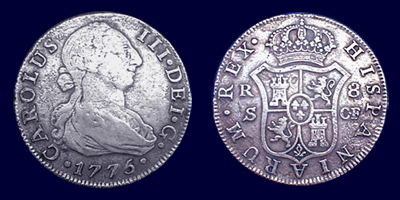 It has been graded as fine to very fine by members of the Predecimal & Rotographic Organization. Valued by Chester L Krause at between $525 - $700 U.S. as a non-shipwreck coin.

Most of the Seadart coin collection from the Halsewell is made up of the 8 Reale coin. We can only summarize how these coins became part of the Halsewell treasure as there is no official record of the coins being part of the ships manifest and no record of any large amounts being salvaged. We assume that the owners of the ship or the East India Company purchased these coins from the Crown to use as payment for cargo or repairs etc on their journey to the East.
Central American silver was far superior to any of the UK's silver, therefore if traders were to be paid in silver they would prefer Central American silver.
8 Reale coins recovered from the Halsewell show signs of ware. This is understandable,as most of them have been tossed about in the seabed for over 200 years but occasionally we do find a coin in reasonable condition.
For details of shipping and insurance coast or any other information regarding this coin, please email enquiries to: sales@seadart.net.